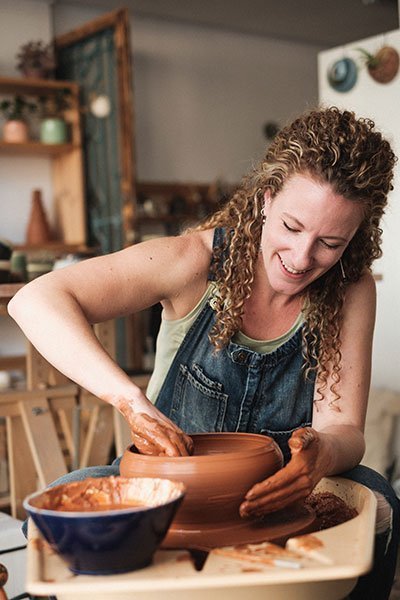 Amelia Johannsen is a ceramic artist striving to explore her creative limits with clay while maintaining a grounded practice based on functionality and craft. Ceramics has played an integral part in Amelia's life ever since she started playing with clay as a child. It was the one activity she returned to time and time again, even while studying and pursuing more traditional career paths.
Originally from Portland, OR, Amelia merges her Pacific Northwest roots with the colorful, eclectic influences of Barcelona, Spain where she lives and works since 2005. Amelia's artwork celebrates the vitality and flow in feminine energy and her love for the great outdoors.
Since her shift to a professional career in the arts in 2017, Amelia's work has appeared in exhibitions in Barcelona as well as international press. She shares her perspectives on the art world through her personal blog dedicated to ceramics as well as on FrikiFish, the Barcelona-based online art magazine she founded in 2017. Through her artwork and writing, Amelia encourages slower paced, more creative and conscientious living.
Exhibitions
5/03/20 – 'Dones Transitant', Centre Cívic Barceloneta, Barcelona Spain
31/07/19 – 4th Annual Waterscapes Competition, Fusion Art, Palm Springs CA, USA
14/06/19 – 'Cerámica y Madera' – 137° Ceramic Art Studio, Barcelona
30/03/19 – 'Verde' 137° Ceramic Art Studio, Barcelona
14/12/19 – 'Luz' 137° Ceramic Art Studio, Barcelona