CERAMIC ART BY AMELIA JOHANNSEN
New Collection
Mar & Montaña
Are you looking for more organic curves and natural textures for your interior design?
My new collection is all about bringing nature indoors with textured ceramic pieces for your house plants. I used six different types of stoneware clay that you can mix, match and combine to bring rich, tactile beauty to your home.
Shop reopens Sept 1st! Stay in touch >
Passionate about clay. Inspired by nature.
Hello, I'm Amelia. I make sculptural and wall-hanging ceramic art as well as unique functional pottery for everyday use in kitchens, gardens, homes and businesses. My work combines organic forms and earthy tones—mixing inspiration from nature, the feminine form and travel. I love to play and experiment so all of my work is one-of-a-kind or made in very small batches.
Dining, serving and storage.
Natural shapes and earthy tones.
Hanging sculptures bring vivid
beauty to your walls
Unique vessels to create inspirational spaces.
For living spaces with an authentic,
tactile depth of beauty
…What my customers are saying…
Amazing crafter!
I ordered several ceramics from Amelia and her work is beautiful. Will order more ceramics from her! Her communication all the way from order to shipping and beyond is excellent. Amazing crafter!
Alexandre Scriabine
Unique with very lively colors
I love these irregularly shaped creations. They are unique with very lively colors. Very well packaged. Perfect transaction like always. Thanks for all!
Melanie Normandin
Looking to make a special gift
Amelia's creations are as delicate as they are original, each one has its own story and reflects the passion and care it has put into it. If like me you were looking to make a special gift to someone, or to yourself, this is the place, because each piece is unique. The most difficult will be to choose between all her creations!
Lisa Bayle
Her attention to detail is incredible
WOW! Amelia's ceramic pieces are beautiful! I was a little worried about having them shipped but they all arrived perfectly! Her attention to detail is incredible.

Danae Crook
Beautiful art for sale
Amelia is a very talented ceramist. She always has beautiful art for sale, I have a few pieces at home and got nice presents for friends and family. Her studio also organizes ceramic workshops where they teach you the basics and how to use the wheel. I really recommend it!
Hana Gausfain
---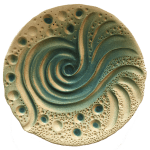 GLOBAL SHIPPING
If you have any questions about shipping to your country please send me an email.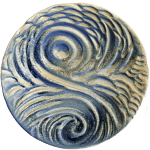 HANDMADE ART
All pieces are handmade by me from start to finish.
SUSTAINABLE ART
Living and creating sustainably is important to me:. I use renewable energy & strict reduce/reuse,/recycle rules.
SECURE PAYMENTS
I accept all major credit cards and cryptocurrency (coming soon). If you have any questions please send me an email.
---